Several years ago, The Haskell Company flew a camera crew from Florida to Washington State to interview Russ and I, with the intention of utilizing parts of our story for their orientation video.
They did an amazing job, and captured the essence of our message beautifully!
Since then, we have had many clients, colleagues, friends, and even family members tell us that they have seen the clips, as part of their new hire requirement, on different job sites throughout the country.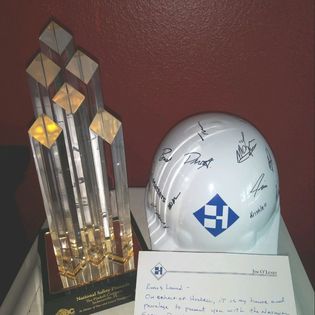 Several months ago, Russ and I heard that The Haskell Company had dedicated their national safety award to us!! We were so very honored, touched, (and, honestly, speechless!)
THEN, one day, UPS dropped off a large, heavy package. We could not believe it, and didn't know where to start, to express our gratitude to The Haskell Company for their thoughtfulness and generosity. I seriously was bawling when I opened the box…I was like…"They didn't! They DID!!!" Our hearts are still overflowing with gratitude for the signed hard hat, the personal, handwritten message from their CEO, and the phenomenal, gorgeous award…still can't believe it…it's one thing to announce that they dedicated this national safety award to us, and another to actually have it sent here!!! We will cherish all three items…and we will always have a special place for The Haskell Company in our hearts!!!